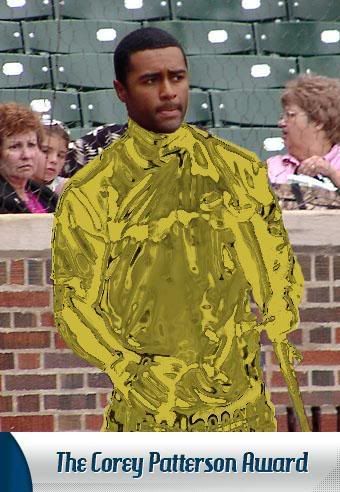 Our first award is a very prestigious one. For years, a young prospect by the name of Corey Patterson was hyped as the Cubs savior.
"Patterson has been called Kenny Lofton with power, but a better comparison might be a faster Griffey. There's a chance that there really is nobody to compare him to."
this coming from the highly respected Baseball Prospectus think tank. Yes, things were really looking up for the cubs,what with Kerry Wood coming back from Tommy John surgery, a certain draft pick by the name of Mark Prior who was supposed to be the perfect pitcher, and cub fans were hearing nothing but good things about another up and coming talent, by the name of Bobby Hill, and to top it all off we had our knight in shining armor, Mr. Corey Patterson. Being Cub fans, we ate it all up and placed ridiculous amounts of our hope into these rising young stars. Unfortunately fate had other plans. Bobby Hill didn't pan out and it was beginning to look like Kerry Wood would never return to form. Sure this stung a little, but not to bad, for their was a feeling in the air that Corey Patterson would have his break out season, kick starting his hall of fame career. We waited six long years for that season, and in the end it never came. Eventually we had to cut our ties with Corey, but in an attempt to make sure he will never be forgotten, we have immortalized his legacy in the creation of the Corey Patterson Award. An award to be given out annually to the player whom we feel exhibited the most Patterson like promise only to yield the most Patterson like disappointment, and the first annual Corey Patterson Award goes to...
Aramis Ramirez for his lackluster post-season best characterized by his .000 post-season batting average, following what was a sensational regular season. Congratulations Aramis, you've earned it!